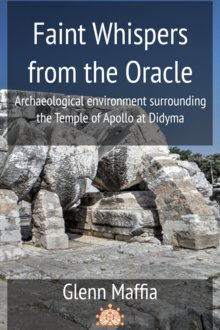 We are happy to announce that the second edition of Faint Whispers from the Oracle is now available on Amazon. Four additional chapters about the latest developments concerning the Temple of Apollo in Didyma and its immediate surroundings have been added. The new edition of this guidebook has also been thoroughly revised and updated. The guidebook is now available on Amazon not only as an ebook but also in the paperback version. Additionally, it is possible to get the ebook version from Google Play.
About the book
This book offers a unique insight into the remarkable Greco-Roman archaeology which surrounds the Temple of Apollo at Didyma, the second most important oracular sanctuary in antiquity. The author has expunged the stuffy and meticulous language of the academicians to breathe vibrancy into the narrative which brings to light the complexities of both the ancient world and the ongoing conundrums afflicting the archaeological site today.
It is also an attempt to galvanize the Turkish authorities into sanctioning a thorough excavation of this most important site in ancient Asia Minor. The second edition of the book reflects important developments that occurred around and within the extensive archaeological site of the Temple throughout 2018.
About the author
Originating from London, Glenn Maffia deeply appreciates that he was fortunate enough to have the availability of that city's surfeit of magnificent, and free, Museums and Art Galleries at his disposal throughout his youth. An opportunity he hungrily embraced.
He attended Art School where he graduated with a Diploma in Graphic Design, before later enrolling with the Open University, whilst he was working in the fledgeling computer industry. His interdisciplinary studies included; 'Victorian Britain: An arts foundation course', 'Modern Art and Modernism', 'Art in Fifteenth Century Italy', 'The Enlightenment', 'Philosophy of the Arts', 'Culture and Belief in Europe 1450-1600', 'Art, Society and Religion' and 'Fifth Century Athens: Democracy and City State'. He graduated with a Bachelor of Arts (Honours) degree and a Diploma in European Humanities.
Glenn was first attracted to Didim in Turkey when seeing a solitary photograph of the Temple of Apollo upon the pages of a holiday brochure early in 1996. After his two week visit, which also saw him venture to Priene and Miletus, his interest was ignited enough for him to enquire further into the history of this tiny corner of the world nestling upon the Aegean Sea.
Glenn emigrated to Didim in 2003, since when he has been a regular contributor and columnist for two English language local newspapers, the 'Didymian' (2005-2006) and 'Voices' (2006-present).